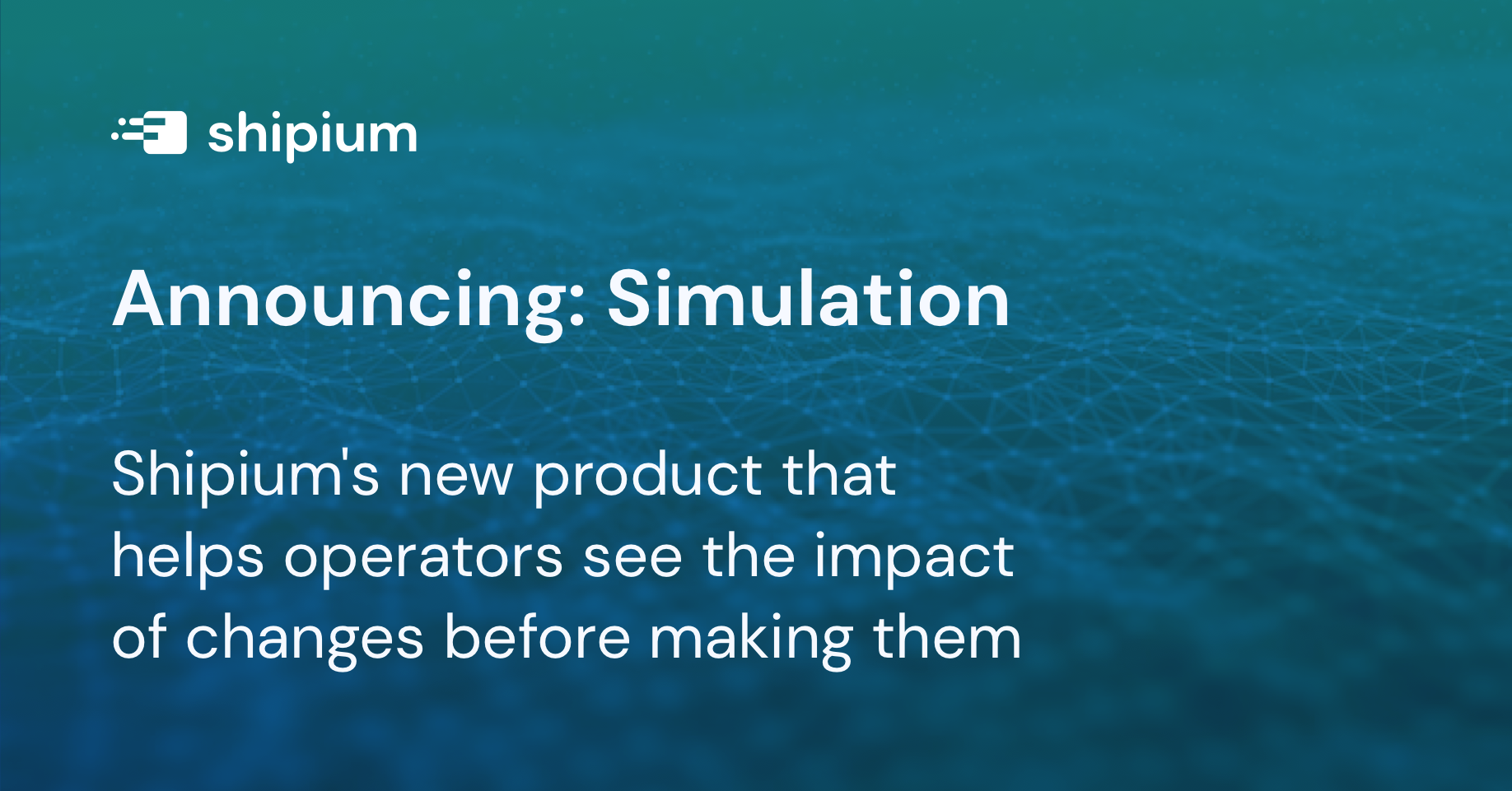 Simulate future outcomes with Shipium's powerful new product
By Jason Murray (Connect with me on LinkedIn)
/
Updated September 7, 2023
"If we wanted to make changes to our network, could you tell us what would happen?"
That's the most frequent question we have gotten from modern operators throughout 2023. We have a couple theories as to why.
The Covid-19 pandemic exposed supply chain issues across industries. For parcel shipping, and in particular retail delivery, it shined a spotlight on single points of failure. Companies are prioritizing risk mitigation, but want to ensure they make the right decisions before changes are made.
Rising interest rates have put greater pressure on profitability. Shipping is always one of the highest operating expenses on a P&L, so modern operators are aggressively looking for ways to reimagine their networks to reduce costs. They want to see how cost structures will change based on different scenarios.
Legacy tech makes it super duper hard to make changes. Most changes rely on external IT, and modern operators (rightly so!) hate not being able to control their destiny. In order to get out from under that pain, they need to make a business case that requires enormous time and investment to justify the changes.
In short, modern operators want to simulate scenarios to gain clearer insight into future results to justify major operational changes that require expensive technical changes.
Seems exceedingly reasonable.
There is no strategy without intelligence
The explosion of interest in simulation makes sense.
At Amazon, we relied on simulations to identify continuous improvement of operations and technology. Few strategic decisions were made, like diversifying carriers or picking a location for a new warehouse, without intelligence from simulations. Shipium has taken the same foundational principles to how we build both a company and a technical platform for customers.
In fact, to isolate one example, the concept of simulation is the underpinning of Fulfillment Engine. The way in which it decides order routing is by simulating all possible delivery outcomes across eligible fulfillment origins and carrier service methods to identify the cheapest option that will hit a delivery date constraint. Each "fulfillment plan" per order that Fulfillment Engine helps build consists of dozens, and sometimes hundreds, of specific simulations of the future.
I could personally not be more excited about the industry as a whole beginning to prioritize this approach at a higher level. It is one of the key paths for operations to reduce costs while improving customer experience—the mission of Shipium.
Announcing the new Shipium Simulation product offering
Which is why I'm excited to share details about the launch of our own Simulation product for customers.
The team has been hard at work extending the machine learning and data science innovations that power our existing three products (DP → FE → CS) with a new product specifically designed to help modern operators simulate different scenarios.
The early results during our beta have been fantastic. In Q2 we launched a project with an enterprise Fortune 500 retailer to simulate a few different scenarios in order to gain an understanding of optimization possibilities. We published a case study showing the results, with the details anonymized and obfuscated to protect the company's privacy. You can view that case study here.
With the success of the beta, we are launching Simulation to general availability to customers starting November 1st. You can view more about the product here, but I'll call out a few highlights available at launch:
Use historical shipping data with your current network, but tweak selection criteria to see how outcomes change. For example, if you wanted to exclude a certain carrier service method from a certain set of ZIP 5's.
Similarly, take historical shipping data with your current network, but impose a delivery date constraint (e.g. 3 days) to see how volumes and costs shift.
Service level optimization is a big deal and a simple place to start. You can do simple simulations like tweak different discount tiers to see how your carrier mix and cost structure could change. This can be very powerful for renegotiations.
Test expansion plans by simulating historical shipping data with new carriers and rates to see how volumes and costs shift.
Similarly test what would happen if a new origin was added to your network, like a warehouse or 3PL location. For large retailers who want to better understand a ship-from-store strategy, this is a great way to see the impact of including stores in your network!
Shipium's Simulation offering will help modern operators plan for future scenarios better than any other tool available today because the key ingredient to predicting the future is data science. Shipium's engineering team consists of some of the most experienced engineers in the retail supply chain space, and a major portion are experienced data scientists building the industry's best machine learning-based transportation models.
With the exception of Amazon itself, we believe that at launch in November no one will have built better probabilistic algorithms around parcel transportation than Shipium.
The goal now becomes continuing to build the self-service capabilities of the tool along with additional simulation criteria so that running simulations becomes easier and more customizable for customers throughout 2024.
Continuing the conversation
The announcement comes today, ahead of next week's Parcel Forum conference, which many of the industry's leading transportation managers will gather to talk about parcel trends.
I'll be attending, and on a panel with my good friend Jim Jacobs from Green Mountain, along with Christopher Carlson from OnTrac and Derek Hotchkiss from A&F.
Shipium will also have a booth, located at #1208.
We would love to gather more feedback on the types of simulations modern operators care about most. If you would like to learn more, please reach out to me on LinkedIn to find time or the team by filling out the below form: