Carrier Selection
Optimize and execute shipping decisions
Shipium improves delivery speeds while reducing shipping costs with a modern approach that augments your existing ops stack.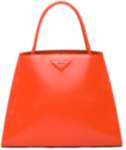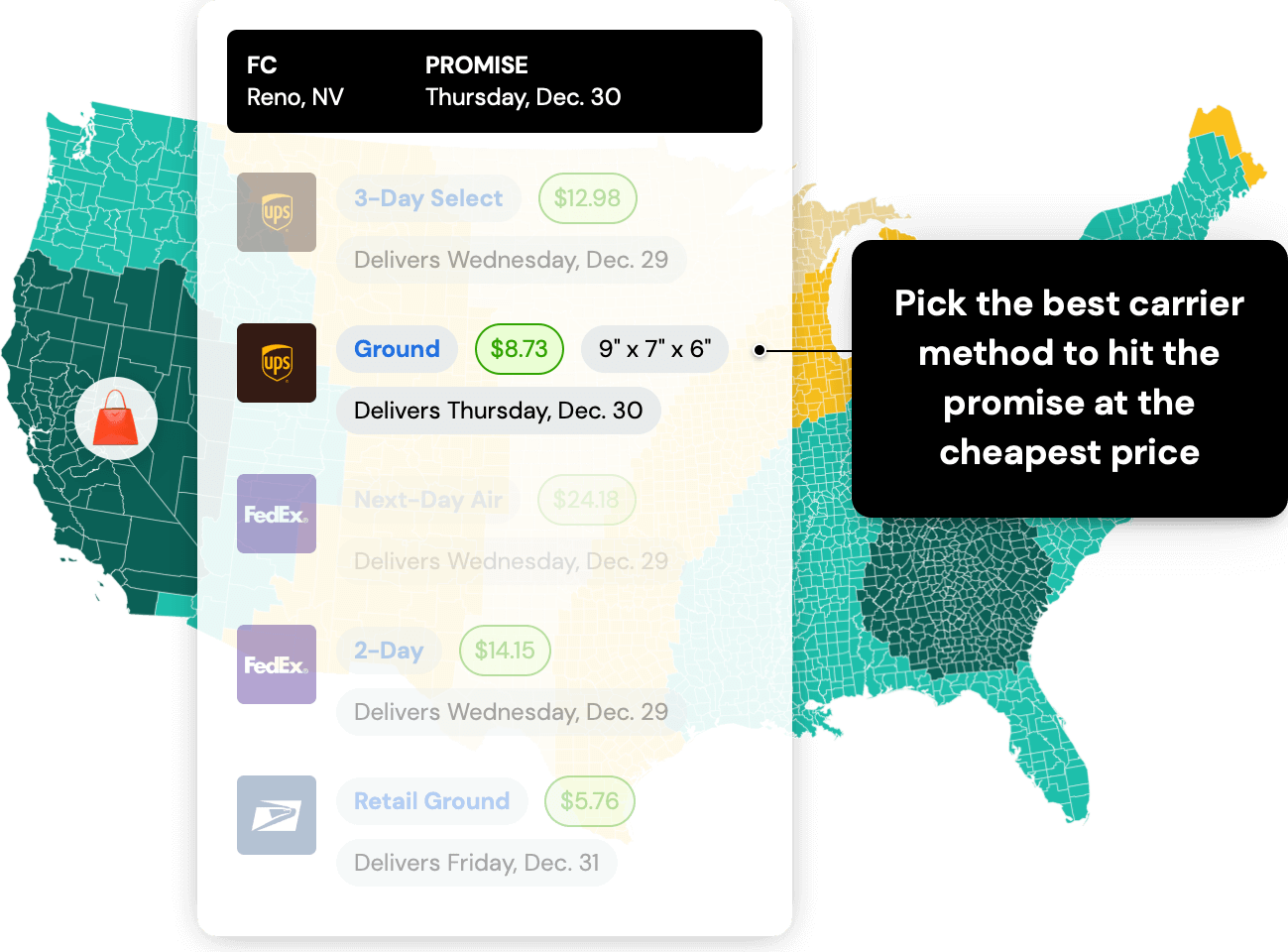 Faster, cheaper shipping
Dynamically select the best shipping method, every time
Improve outcomes that matter to you and your customers with every shipping decision optimized for speed, cost, and accuracy—in real time.
Regular 2-day shipping is possible with software
Many retailers are surprised to know they can regularly hit 2-day delivery dates for customers without having to pay for Next-Day Air methods. Shipium applies automation and sophisticated modeling technology to create faster delivery speeds for less, which is critical to meet changing consumer expectations.
Read more about these trends →
91%
Consumers who abandon cart if shipping isn't free or fast enough
44%
Consumers who did not purchase because shipping was too slow
70%
Consumers who expect a 2-Day shipping option
39% Consumers who expect a free 2-Day shipping option
Reduce shipping costs 5% or more
Complexity is good, as it's a typical sign of sales and shipping growth. When retailers use multiple carriers and methods, savings can be found through arbitrage. But wrangling that complexity is difficult, especially at scale. Shipium gives retailers a way to add new carriers to all warehouses in a single afternoon, then automates carrier selection based on cost optimization.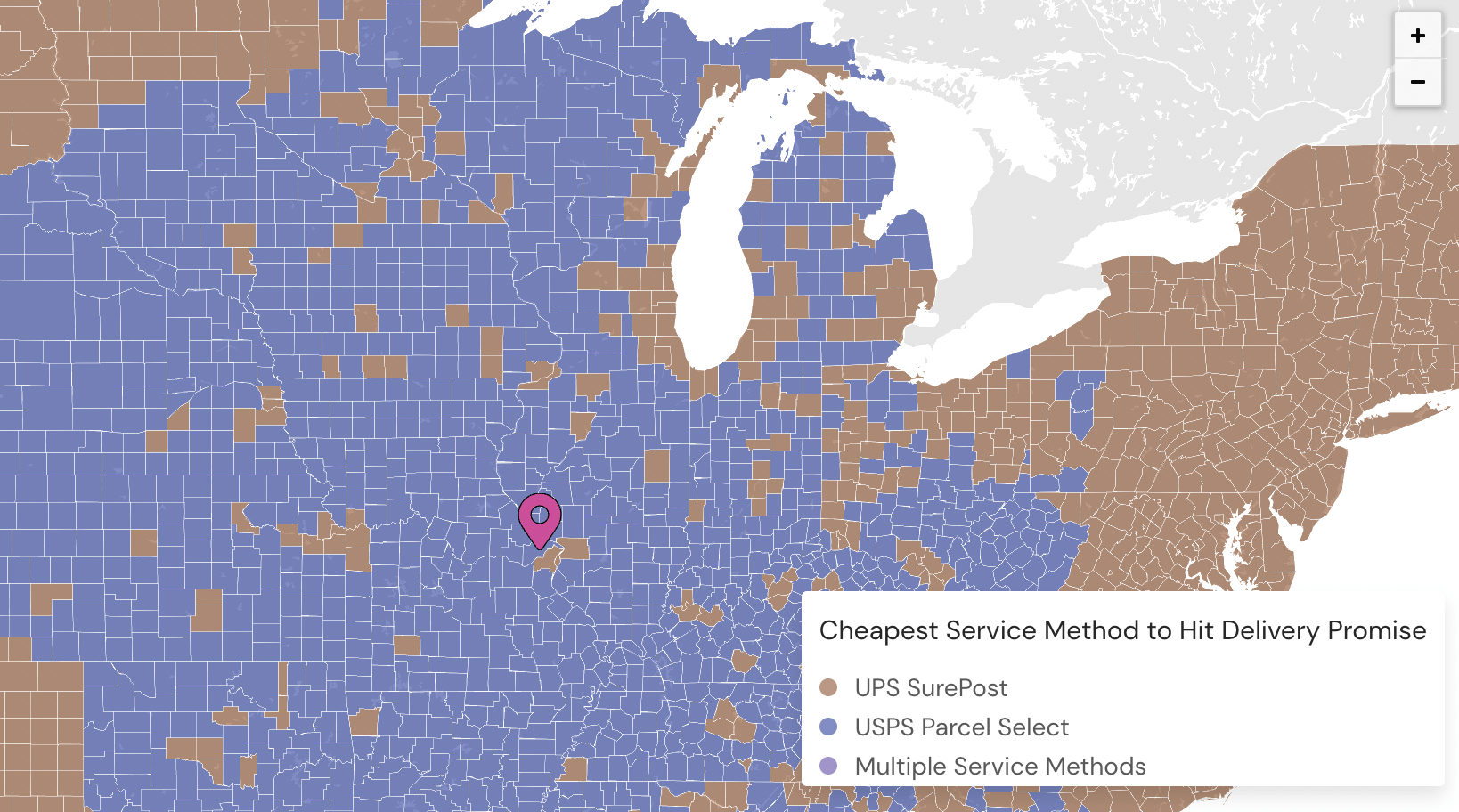 Did we say 5%? We meant 20%+
Deploying a multi-carrier strategy that utilizes Carrier Selection's contract and surcharge virtualization tools will have a transformative impact on your cost structures. If what you have today with a carrier or two is good enough, then why aren't you reducing your costs by 20%?
An Actual Shipium Customer
2022 Totals, Over 3 Million Shipments
Cost per Shipment
Delivered in 3 Days or Less
Delivered after 3 Days
Before Shipium
$9.12
$8.61
After Shipium
$7.22
$7.60
Improve customer loyalty by ensuring you always hit a promised delivery date
Customers like predictability and are more often to buy from you if they trust when they will get what they ordered. Shipium selects the carrier that is most likely to hit a delivery date you told the customer, which is crucial for loyalty. Read more about these trends →
27%
Consumers who buy from one retailer over another retailer because of better delivery experience.
46%
Consumers who switched brands during the pandemic due to better ecommerce delivery experience.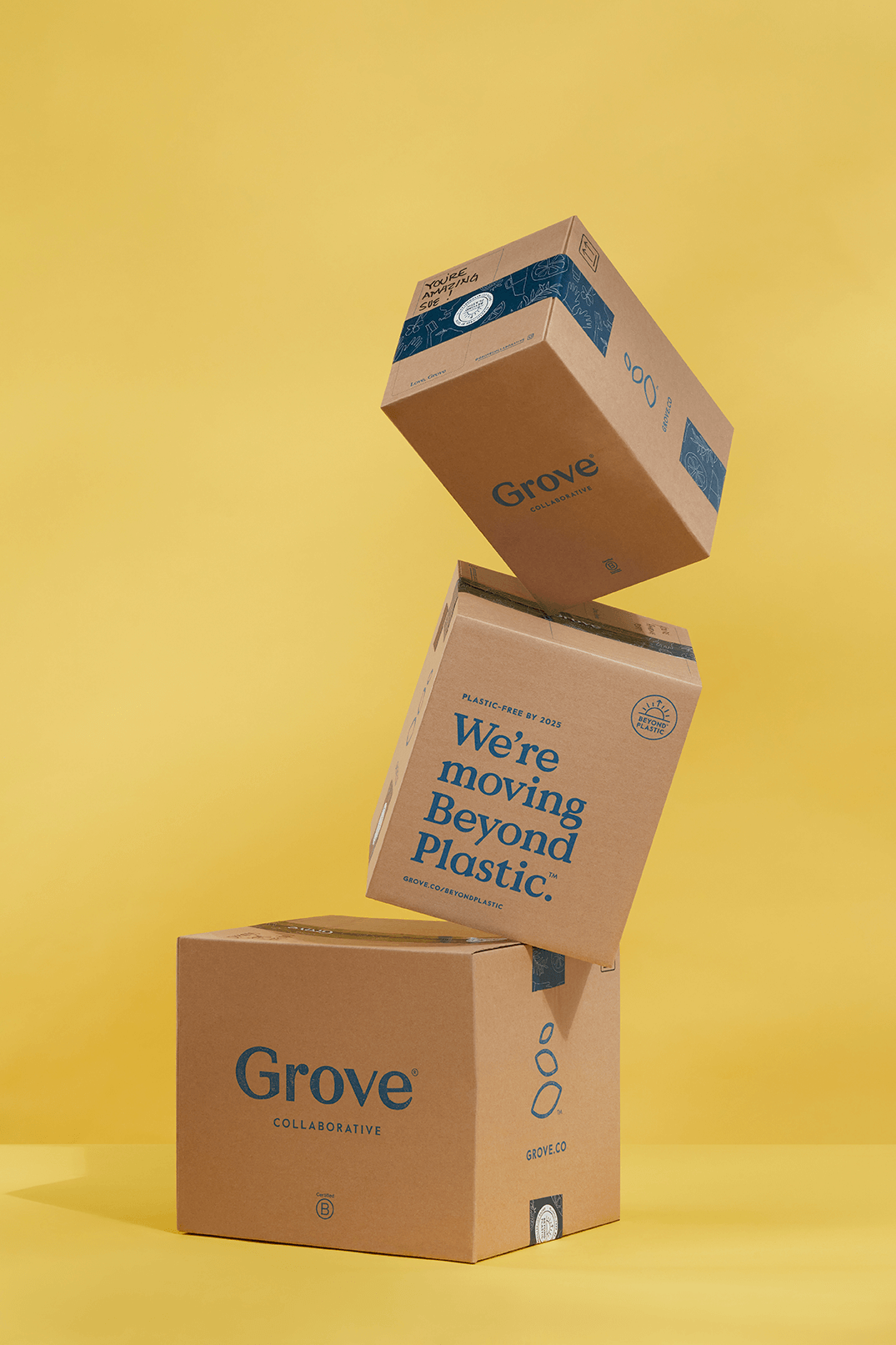 Customer Success Story
"The tangible savings around reduced shipping costs are great, but the improved performance and automation of our outbound shipping technology will set Grove Collaborative up for even better profitable scale in the future."

— Robert Gash, VP of Operations Technology

Read the success story
How Carrier Selection Works
Customers replace their TMS with our API-first platform to give them modern flexibility, scalability, and reliability.
Integrate with your WMS
Shipium Carrier Selection APIs are called at the moment of pick-and-pack in order to return the best shipping label for a shipment. Integration is uncommonly fast, and our team of implementation managers is ready to get you started.

Send us shipment information
A simple API request with origin, destination, and shipment properties is all that's required.
View documentation →

We check eligibility for you ("Gate Shopping")
Because Shipium is a centralized cloud platform, we only integrate into a carrier once, and when completed, the carrier is available to all customers. Part of the carrier integration process is our team noting all eligibility criteria for a carrier and method. We'll know that a P.O. Box must use USPS methods, or lithium ion batteries can't use air methods, or that a certain regional carrier doesn't deliver to zones 6-8. The first phase of our selection process checks eligibility requirements of all methods available to you, thus eliminating almost all business rules you would have to set up yourself in a TMS.
Shipment Information
From

89433

To

98178

Hazmat

Yes

Dims

9x6x4

Weight

3 lbs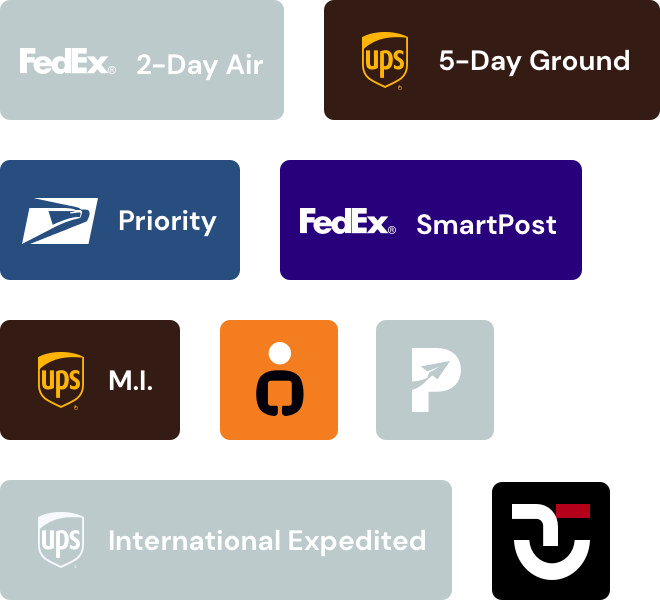 We predict with precision which methods will hit a delivery date ("Date Shopping")
If a shipment must hit a specific delivery date, we stochastically model out the probability of each method hitting that date. This is different than every other TMS which will simply check the carrier SLAs. With Shipium, a 5-Day Ground method might still be in scope because it always is delivered ZIP<>ZIP in two days whereas other offerings will disqualify it.
Delivery Promise
Deliver By Date

March 13

Today

March 11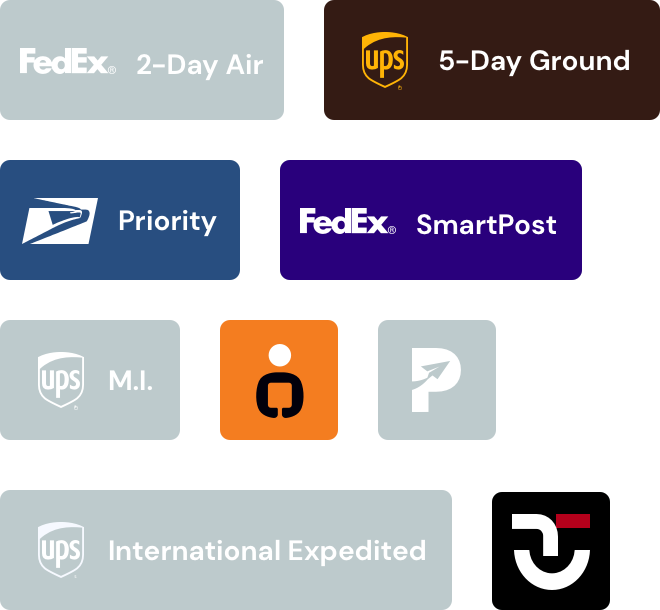 We model rates in-memory and pick the cheapest option ("Rate Shopping")
After the first two steps, we only then do rate shopping. Given eligible methods, we model the probable price with precision based on customer contracts set on the platform. Once we identify the cheapest option, it is only then that we make a call to the carrier API to print a label. The whole selection process can be completed in a fraction of a second, dramatically improving throughput and performance.
Shipping Price
UPS 5-Day

$6.12

USPS Priority

$8.46

Pandion

$5.37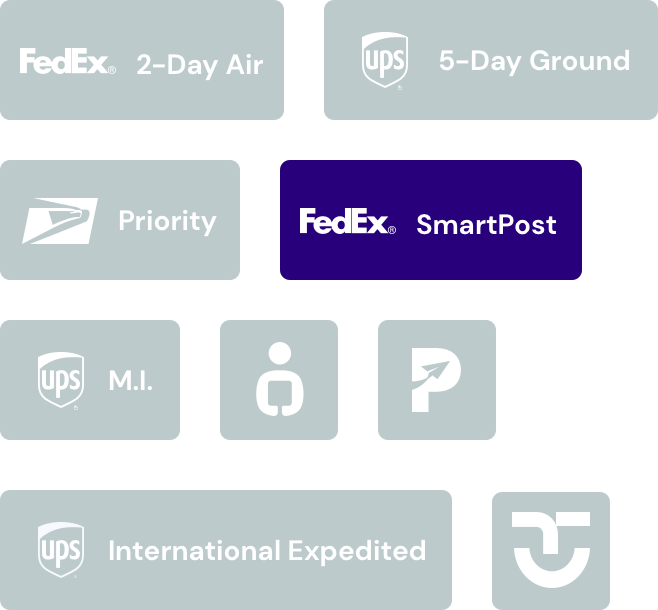 We manage manifesting and labels
The selection process completed by Shipium handles the returning of a label to print and manifesting the shipment with the carrier.
Custom label augmentation
Adjust label sizes
ZPL or PDF formats
Tenant customization
Modern technology
World-class engineering that gives you flexibility, scalability, and reliability
Our centralized cloud platform was built from the ground up to support high-volume retail. The enterprise-grade horsepower means customers can kiss the performance issues of their existing TMS goodbye.
Move to a cloud-based future
Shipium is a centralized cloud platform which means customers achieve incredible leverage and scale across their physical operations. Gone are the days of on-premise installations that haven't been updated in years.
Carrier fallback is standard
Some carrier APIs can be unreliable and return errors when calling for a label. Our system accounts for this commonality by elegantly falling back to the next best method if there is a technical problem retrieving a label.
Scalable and elastic
Bottlenecks are eliminated because the platform performs key computations in-memory on the cloud. Other rate shopping offerings make a call to every carrier API for every call, resulting in a multi-second job. We processed 10K shipments per minute during 2021 peak season, and automatically scale higher to meet increased customer demand.
36 million
Number of shipments processed 2022
~10,000 / minute
Number of shipments managed during peak time
99.95%
Uptime over last year
Robust carrier network
Integrated carriers are immediately available to every customer on the platform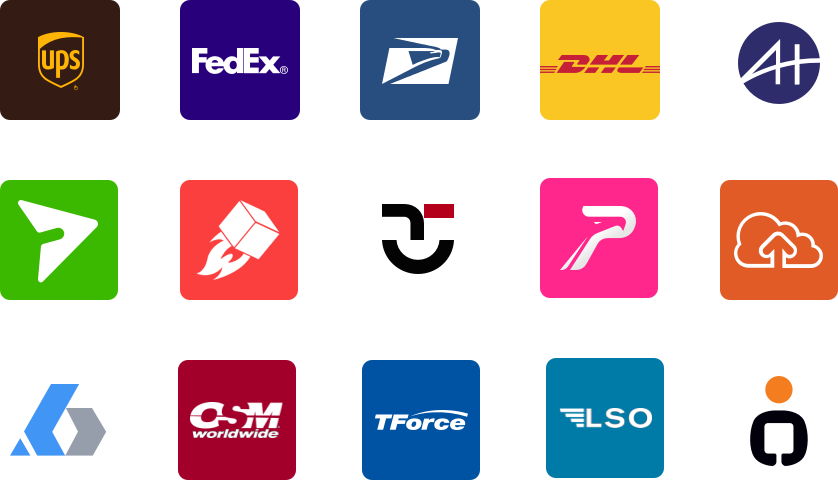 Adding a carrier is as simple as uploading a new rate card
Shipium is a centralized cloud platform which means customers achieve incredible leverage and scale across their physical operations. Gone are the days of on-premise installations that haven't been updated in years.
Shipium's transportation ops team manages all surcharges for you
Our team monitors and updates all default surcharges across all carriers and methods on behalf of customers. You will never need to worry about tracking surcharge changes again.
No hidden fees for adding new carriers to your network
There will never be a fee to turn on a new carrier in your network. Simply switch it on and go. In the event that Shipium has not yet integrated with the carrier, we do so for free within an 8-week commitment.
No middleman setting between you and your carrier rates
Shipium does not resell carrier rates because we believe it doesn't help with faster and cheaper shipping. Customers bring their own contracts knowing that those contracts are optimized for their shipping profile.
Want to see how Shipium works?
Schedule a demo. Our team is happy to answer any questions or provide you an example of our capabilities.