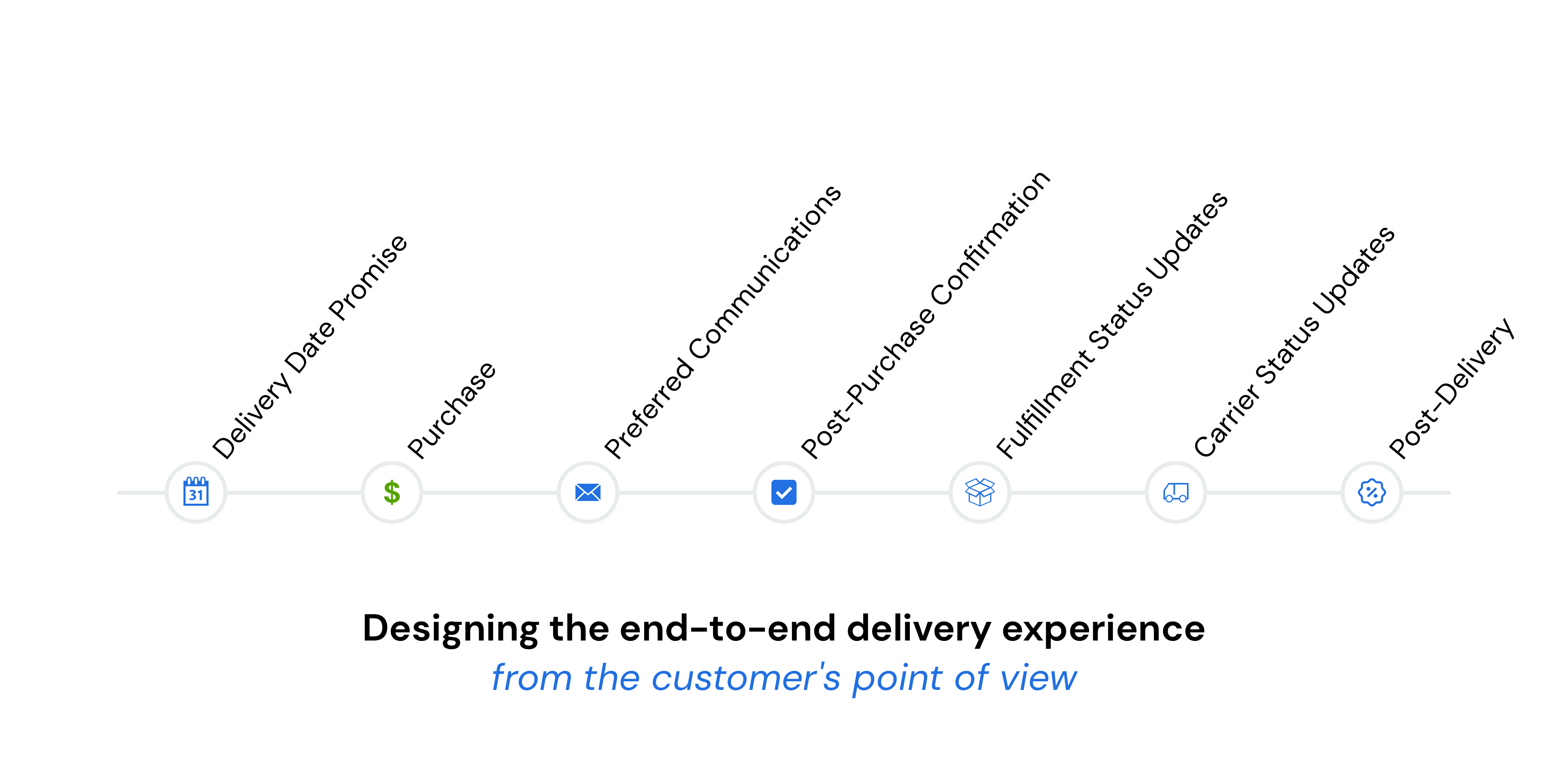 How to Design an End-to-End Customer Delivery Experience
Who is this for?
Read this if you want to improve both the pre- and post-purchase aspects of your customer buying experience in a way that keeps customers happy while reducing your costs.
Summary
Most companies wait too long to design and optimize the customer delivery experience—the moment a customer clicks "Buy" to when the package arrives at their doorstep. Everything in between is an integrated and intertwined process that can make-or-break both your topline (through repeat purchases and customer loyalty) as well as your bottomline (through improved cost savings). The article will explain how to connect leverage your company has from operations with frontend tools, like your store or customer communication tools, in a way that makes customers happy while reducing your costs. You will learn the correct process, or sequence of events, to implement in order to provide an industry-best fulfillment experience.
Overview
An Underlooked Element of Your Customer Experience
Here at Shipium, we talk a lot about one of the most underlooked parts of the customer experience for any online retail website – the Customer Fulfillment Experience. Many companies in their early days (and later days!) spend an enormous amount of time on website-based customer experience or their app, completely focusing on conversion to start. And while this is certainly important, we believe that strong execution on Fulfillment Experience is what truly drives repeat customer behavior as well as creating positive word-of-mouth brand ambassadors. In addition, focus on this area will reduce costs and contacts for your customer service since one of the most common customer contacts is determining when a given order will be delivered.
Customers Buy with Intent
Customers come to your site looking for a product that speaks to them, but rarely are they looking for a product that only you can help provide them with. If you make amazing shoes, it still may be the case that they are shopping for shoes on multiple sites. If they are shopping for a gift for someone, they are likely shopping around for a variety of possible gifts.
One of the things you can do to improve their chances of making a purchase on your site is to make it easier for them to understand when they can get the products they are looking for. Likewise, you can make them less likely to walk away if they are shopping with time on their mind by letting them know when they will get their product.
Estimated Delivery Date Should be Front and Center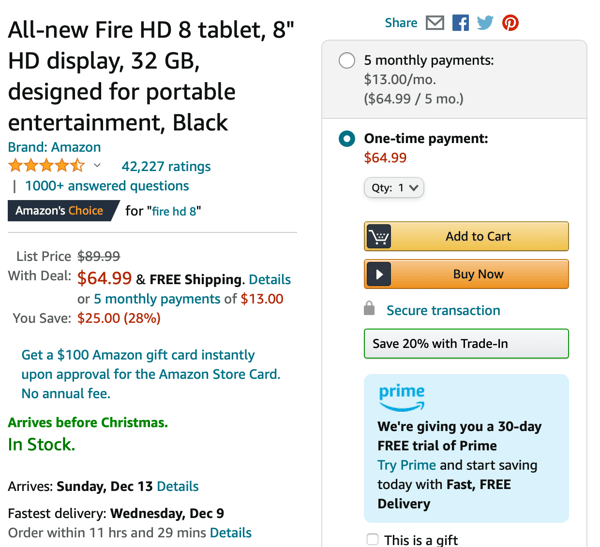 Amazon Estimated Delivery Date

Walmart Estimated Delivery Date
The images above are from a typical Amazon and a typical Walmart product page. There is a reason that the largest ecommerce stores make delivery timing front-and-center – because they know that it drives sales. You might be surprised to learn that this is important for driving sales, even when you can't ship in two days!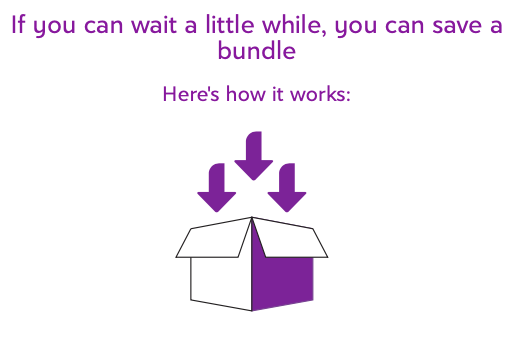 Zulily Estimated Delivery Dates
In the above images, you will see some typical shipping messaging for the online retail company, Zulily, well known for being one of the fastest companies to reach $1 billion in sales while simultaneously having slower-than-Amazon shipping speeds. One of the reasons that Zulily was able to do that is being completely upfront with their customers about their shipping speeds. They don't hide that some items ship more slowly because they recognize that being direct with your customers builds trust that you can deliver on the promises that you make.
Obviously, you want to move toward faster and cheaper shipping options over time (we can help!) but transparency for your customers is important no matter what your current shipping times are.
Estimated Delivery Dates in the Checkout
Once your customers have added multiple items to their cart and they are getting ready to check out, you need to convert the set of item-level delivery estimates into an order-level delivery estimate. In general, there are two ways to do this: a simple way and an advanced way – both are better for your customers by providing insight into when they can expect to get the items they are ordering. Both are better for you because they reduce your cart departures due to uncertainty about shipping.
The Simple Way
The simple way is not actually as common as it should be and many retailers leave out a cart-level delivery estimate. The basic idea here is that the fastest you can promise a set of items to a customer is the slowest speed that any one of them will be delivered in. To give a concrete example, say your customer had the following cart contents and had seen the associated estimated delivery dates on detail pages they viewed.
Assuming that all three might ship out together, the cart-level delivery estimate for this shipment simply becomes the longest time, 3 days, because the fastest you can get the whole order to this customer is 3 days.
The Advanced Way
The advanced way is more complex but gives better visibility to your customer about when they will get which items – definitely an improvement. In this case, you need to have a system that is capable of calculating a likely fulfillment plan in real time for the cart's order's contents. This will be dependent on the fulfillment location of items and understanding how they will likely be shipped. We will add likely FC to our table above to help explain.
In the above table, you can see that we know from the fulfillment plan that one of the items will ship from a different location and so we really have two different shipments that are likely to go to our customer. And so we can actually show the customer that we expect them to get one shipment containing "Product Two" and "Product Three" in 2 days and a second shipment containing "Product One" in 3 days. This degree of specificity gives a greater level of confidence to customers when they are buying on a timeline and can improve conversion.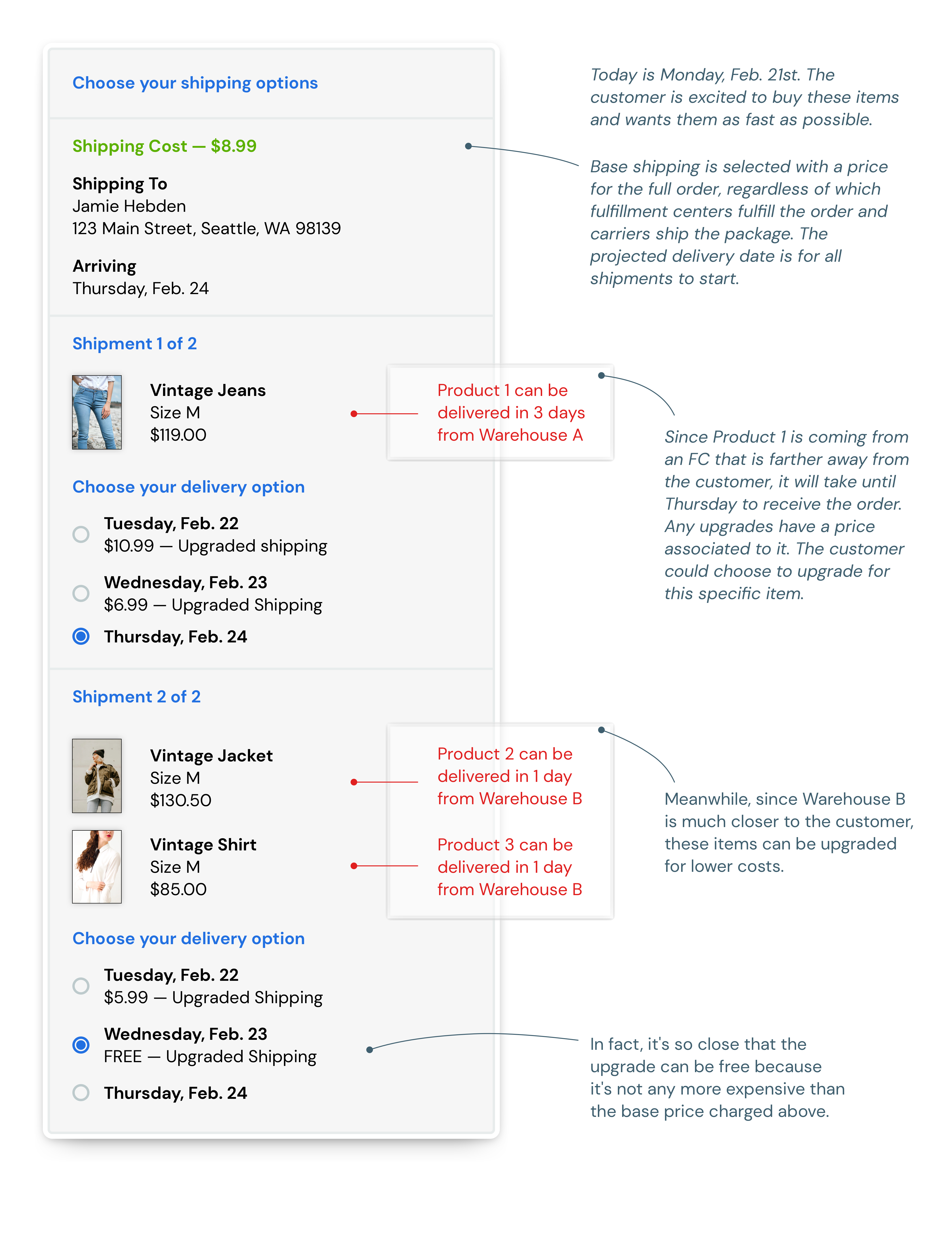 If you want to see this in action, log out of your Amazon account and add a few items from around the site to your cart that have different availability times.
Preferred Shipment Communication
During the checkout process, if your customer has not already had a chance in a previous session to select their preferred shipment communication, you should give them the option to do so now. (If they previously made selections, you can give them the option to change them.)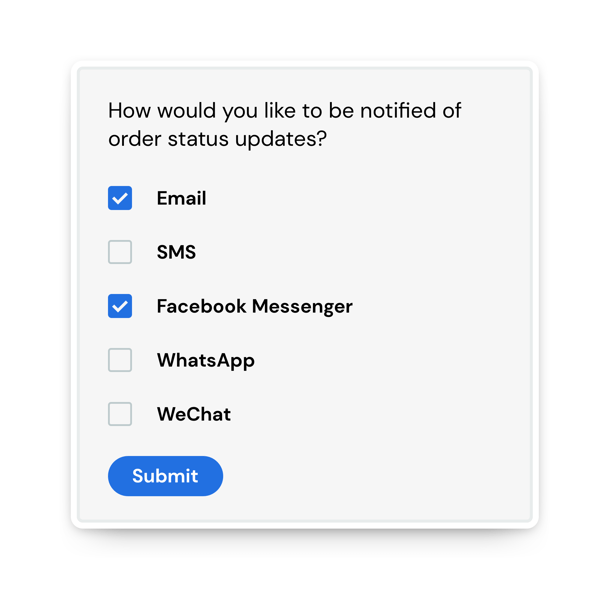 We generally recommend giving your customer the option to receive the kind of communication they prefer on the kind of cadence they want. We recommend offering email and text message communications at least. Depending on the customer you are targeting, you may also want to support messaging via Facebook Messenger or other messaging technologies for a given segment or country.
The emergence of holistic customer communication tools, such as Braze, are a good example to consider. You'll want to take order transparency information and plug it into the channels that are provided and make sense via the customer communication tools you build or buy.
Immediately Post-Checkout
When a customer has completed their purchase, they should both get a screen thanking them for their orders (with details) and immediately receive a confirmation via email so they (1) have a record of what they purchased and when to expect it, and (2) are sure that it actually happened and was successful.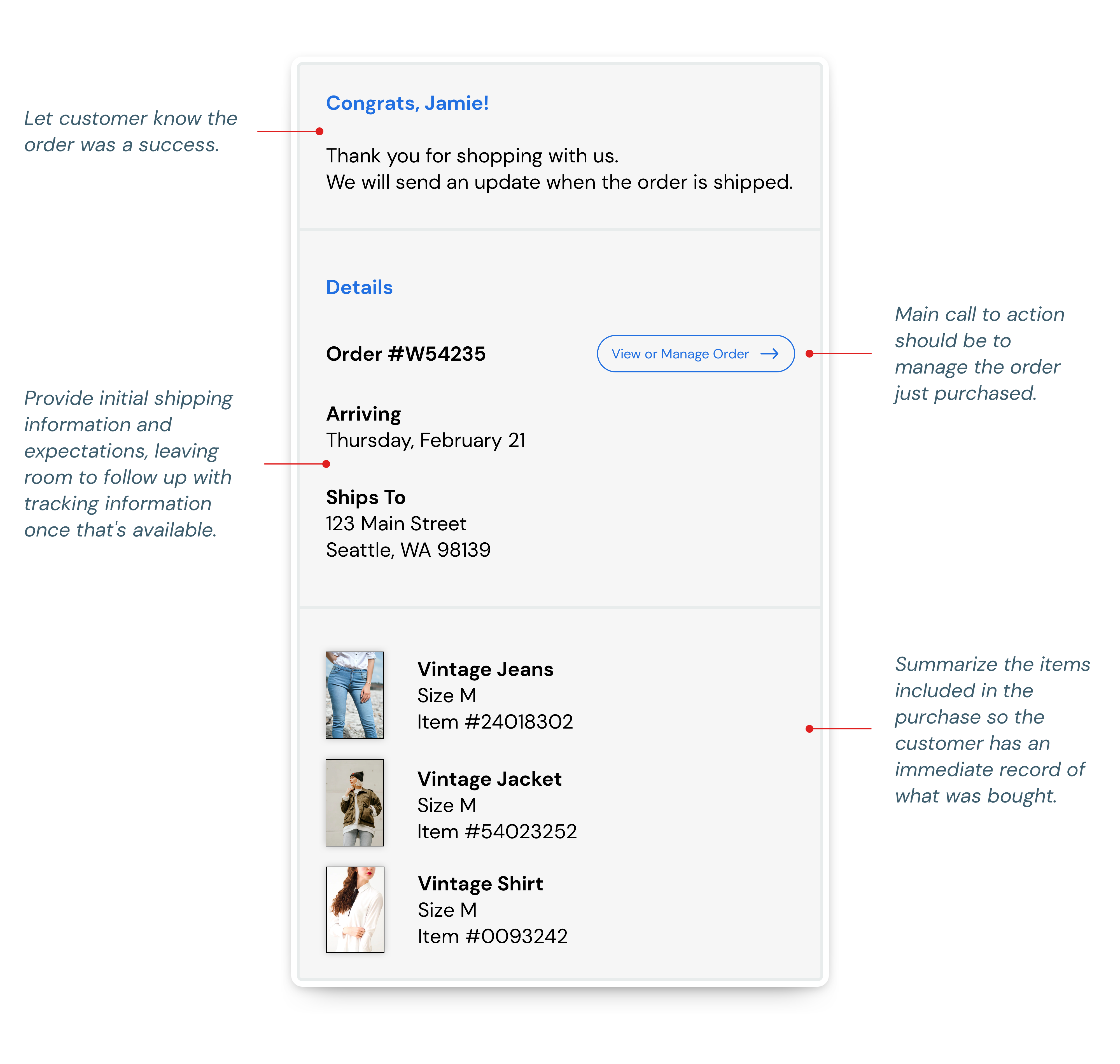 Post-Checkout, Pre-Shipping
The time after a customer excitedly purchases something and waits for the delivery is the most critical part of your fulfillment experience. It is often overlooked. You should make sure that you never go more than a few days without giving an update.
Start with the natural, process-based updates, such as:
When you are about to ship their item(s)
When you have shipped their item(s)
When they are about to receive their item(s)
When their items have been delivered
In addition to these, you should decide when to give updates if there is a waiting period of more than (N) days, where (N) is what is the best fit for your business. This might be different depending on both your customers and on the nature of the products or the shipping. If you know that there is sometimes a longer period of time between order and shipping or shipping and delivery – fill that time with reminders that their order is in good hands and is on its way by sending interstitial updates. You can use it as an opportunity both to remind them about what they are excited about and to let them know that they don't need to worry – you are on top of things and this was expected.
Keeping Promises with Shipping
One of the often less thought-about fulfillment process steps is when to actually pick a shipping method for a given customer shipment.
It might make intuitive sense to pick the shipping method at the moment the customer checks out. After all, they are making a choice about how fast they want their product at that point.
In truth, picking a shipping method and printing a label for an order is the very last fulfillment step you want to do before handing it off to the carrier at the fulfillment center because it gives you the most flexibility both in terms of operations and in terms of meeting customer expectations.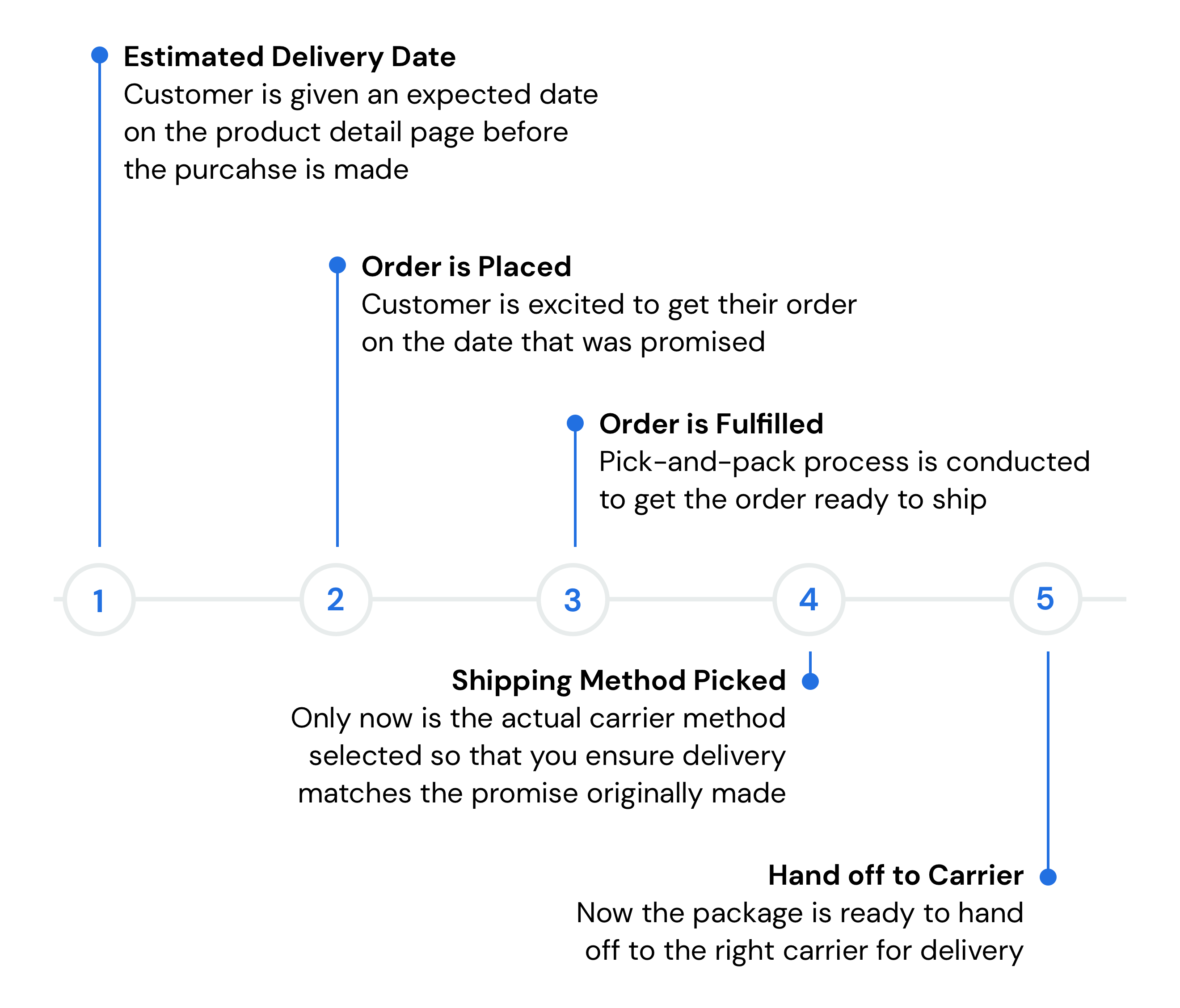 The reason is simple. Let's create a quick example. Suppose it's a Tuesday and the customer chooses a 3-Day ship option and is expecting it on Friday. The customer is not expecting you to use any particular shipping method. Instead, the customer is expecting to receive the package on Friday, which is really important to him or her since it's a gift for a child's birthday over the weekend.
Now suppose there was an issue at the FC. Maybe the order was picked-and-packed an hour late for daily pickup, for example. In this case, a 3-Day method is likely to deliver it on Saturday. In this case, it's to your advantage to eat the cost and upgrade the shipping method selection to a 2-Day option to ensure it reaches on the date promised.
Ultimately, the only way to ensure you meet promises made to customers is by selecting the appropriate shipping method and printing a label as the very last possible step before handing off to the carrier. Scenarios like these only happen a fraction of the time, but occur enough to make this a design priority. In the opposite scenario, you may sometimes be able to hit the dates you promised with a less expensive method than you had originally planned.
You might think that designing your fulfillment experience this way might be too expensive, but with 40 years of collective experience at Amazon and Zulily we can tell you that internal data demonstratively showed that customer loyalty and repeat purchases due to keeping promises far outweigh the periodic additional cost. In addition, you can build your shipment costing structure in a way that takes into account these occasional increases such that your standard pricing covers the occasional need to speed things up on a total cost basis.
Delays and Difficulties
If there are delays or problems with the shipment – don't try to hide it or ignore it. Confess and make your apologies. Let your customer know that you recognize that you were supposed to have shipped or delivered their shipment and that you are working to make things right. Give an updated ship date through email and whatever other forms of communication the customer has asked for and don't try to erase the original dates! Your customers will appreciate that you are letting them know that you are working to get them their product and your company's honesty about being a little late. Some companies offer some form of compensation via a gift certificate, but be careful not to set the wrong precedent – even the best companies in ecommerce sometimes miss their shipping dates and you don't want to overburden your bottom line with a quick customer fix that isn't sustainable.
Track the rate of your misses and make process improvements to reduce the chances of those misses. This is the secret of the best ecommerce companies – continuous focus on making the delivery experience better for their customers through tracking, tracing and (most importantly) repairing process problems that are leading to customer problems.
Post-Delivery
This is your last chance to communicate with your customer as part of this delivery experience.
When an item has been delivered, make sure that they have as much detail as possible about when and where it occurred.
Don't send them to the carrier website to search through some weird detailed description of distribution centers and truck changes. The customer doesn't care that the order transferred from a Memphis distribution center to a Reno distribution center before arriving at their house. Send them to a branded page on their site that gives a single customer-friendly view of shipping in your brand's voice.
Lastly, take the opportunity to remind them of other products that they might have missed on their first trip through your site.
How Shipium Helps
Getting the fulfillment and delivery experience right takes a coordinated effort across multiple systems. It isn't easy.
Shipium can help in a variety of ways.
First, we help ecommerce companies display a pre-purchase projected delivery date, or Delivery Promise. The promise is made through a stochastic model based on historical shipping between your FCs and the customer viewing the product or their cart. The date chosen can be "locked-in" on your backend to inform the remainder of the fulfillment experience.
Second, we help by connecting the shipment selection method with the promise made, and pick the best shipping option based on the cheapest price and most accurate possibility to hit the promise. That decision is automated at the order level, and frees up operations from making static policies that can fail at this step.
Third, if you have multiple fulfillment centers, the platform helps with a cart-level "fulfillment plan" for the order by determining the best FC to ship from given inputs like SKU properties, inventory feeds, box sizes, carrier contracts, and real-time carrier capacity limits. The result is the cheapest possible fulfillment which meets the delivery promise given to the customer.
Finally, throughout the entire process and system described above, the platform exposes order status information via easy-to-use APIs which seamlessly fit into website order management and customer communication platforms.