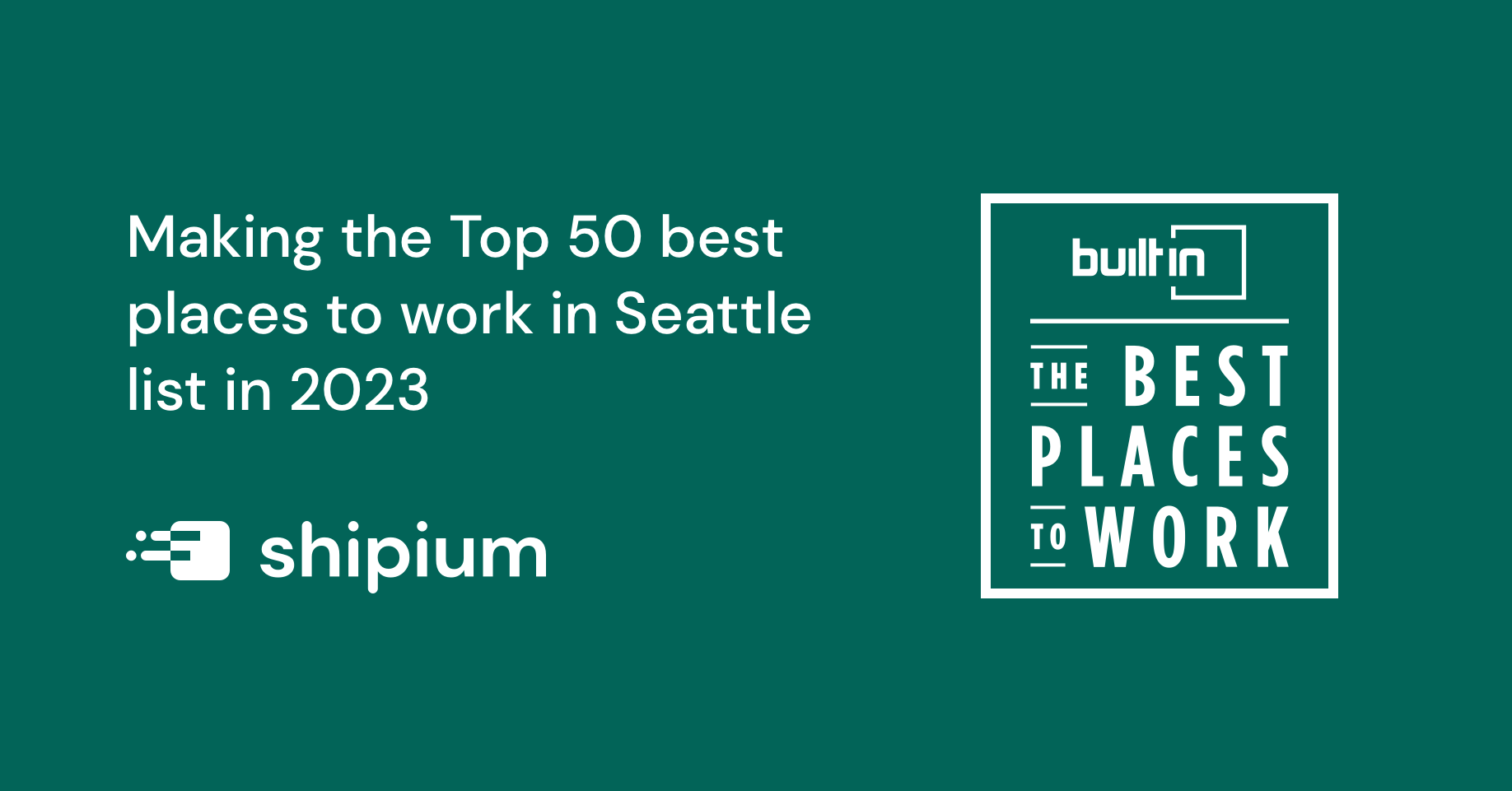 Built In Honors Shipium in its 2023 Best Places to Work Awards
By Jason Murray (Connect with me on LinkedIn)
Built In's esteemed Best Places to Work Awards, now in its fifth year, honor companies across numerous categories. The program honors companies – remote, hybrid and in-office – with the best total rewards packages across the U.S. and in the following tech hubs: Atlanta, Austin, Boston, Chicago, Colorado, Dallas, Houston, Los Angeles, Miami, New York, San Diego, San Francisco, and Washington DC.
We're excited to announce that Built In has announced that Shipium was honored in its 2023 Best Places to Work Awards for Seattle. Specifically, Shipium earned a place on the 50 Best Startups In Seattle! The annual awards program includes companies of all sizes, from startups to those in the enterprise, and honors both remote-first employers as well as companies in large tech markets across the U.S.
"It's my honor to congratulate this year's Best Places to Work winners," says Sheridan Orr, Chief Marketing Officer, Built In. "These exemplary companies understand their people are their most valuable asset, and they've stepped up to meet the modern professional's new expectations, including the desire to work for companies that deliver purpose, growth and inclusion. These winners set the stage for a human-centered future of work, and we can't wait to see that future unfold."
How did Shipium, specifically, achieve this award? By focusing on our people first. Shipium offers competitive compensation and benefits as well as remote work and other people-first cultural offerings. Most importantly though, we worked hard to make an environment that focuses on collaboration, work-life balance, and opportunities for everyone.
Thank you to all of our employees that bring their authentic selves to work to make Shipium a great place to be. As Shipium continues to grow and evolve, we look forward to our employees leading the way in communication, innovation, and collective leadership so we can continue to serve as credible industry leaders to ensure each of our customers can be a hero in their space.
Ultimately, Shipium's goal is to provide retailers with the technology needed to modernize their operations and improve customer experience for their consumers, and we can only do that with the best people in each of our internal roles. We are fortunate to have the staff we have, and look forward to a long and prosperous future, together!